The pricelist below is exhaustive.
I only take projects that comprise at least a head, or a bodysuit by itself.
Additional costume parts or duplicate parts can be discussed before establishing a quote.
The prices below are base prices and are valid for a character with two colors.
They may change depending on your character, for example the number of colors, complexity of the markings (stripes, spots…), characteristics added (horns, wings…) or just more difficult to make (a longer tail, 3D eyes…).
To know the exact price of your future costume, you must have a reference picture of your character and then request a quote when I am open for commissions. Commissions' status can be found on the main page of this website.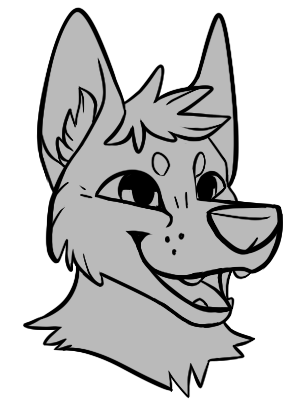 Head: 1800€+
• Foam base, "slip-on" style (no zipper)
• Passive ventilation holes in ears
• Lined with lycra
• Static jaw
• 2D eyes
• Minky or fleece details
Mini Partial: 2200€+
Head + Handpaws + Tail
Handpaws :
• Stuffed pawpads
• fleece, minky or vinyl details (pawpads, claws)
• Lined with mesh fabric
Tail :
• Nylon belt loops
• Zipper to allow stuffing removal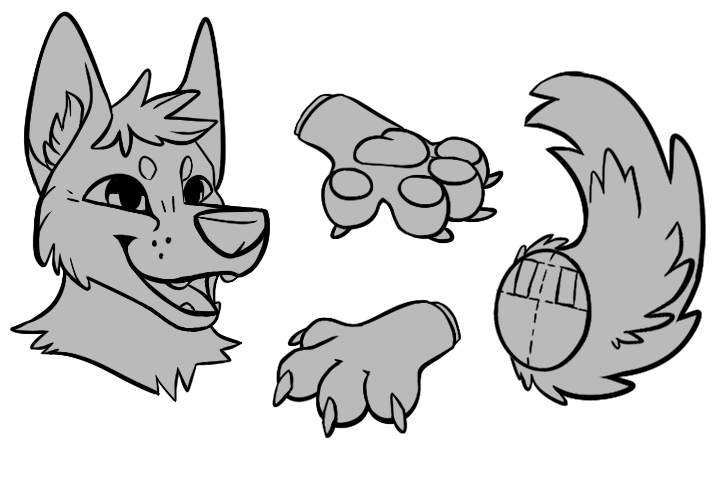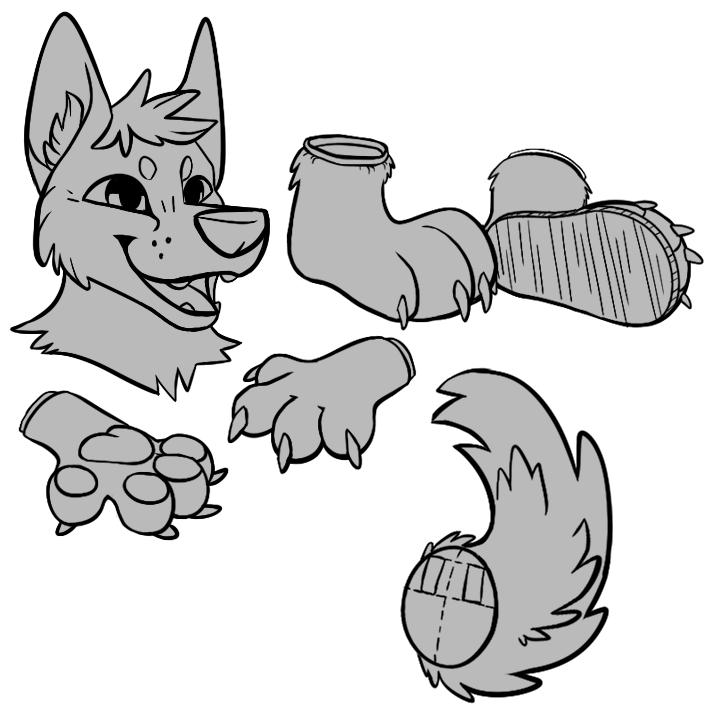 Partial : 2700€+
Head + Handpaws + Tail + Feetpaws
Handpaws :
• Stuffed pawpads
• fleece, minky or vinyl details (pawpads, claws)
• Lined with mesh fabric
Tail :
• Nylon belt loops
• Zipper to allow stuffing removal
Feetpaws (outdoor):
• "Use your own shoe", Shoes can be slid inside and taken out at will
Plantigrade fullsuit: 3200€+
Head + Handpaws + Body + Tail + Feetpaws
Bodysuit :
• Costume follows your body's shape (legs are straight)
• Lined zipper on the front
• Waterproof inside pocket (breast)
Handpaws :
• Stuffed pawpads
• fleece, minky or vinyl details (pawpads, claws)
• Lined with mesh fabric
Tail :
• Sewn to the body unless requested by the client
• Nylon belt loops
• Zipper to allow stuffing removal
Feetpaws (outdoor):
• "Use your own shoe", Shoes can be slid inside and taken out at will
• Sewn to the body unless requested by the client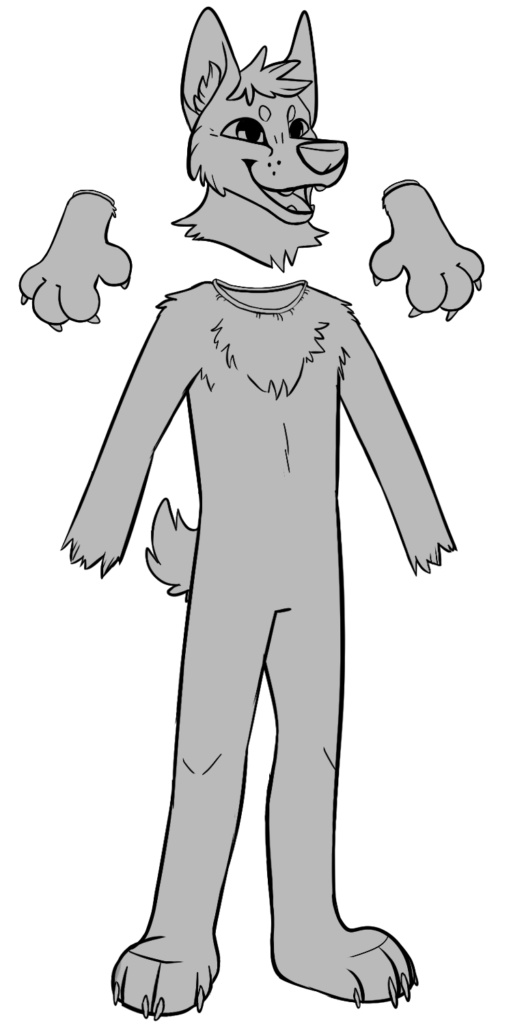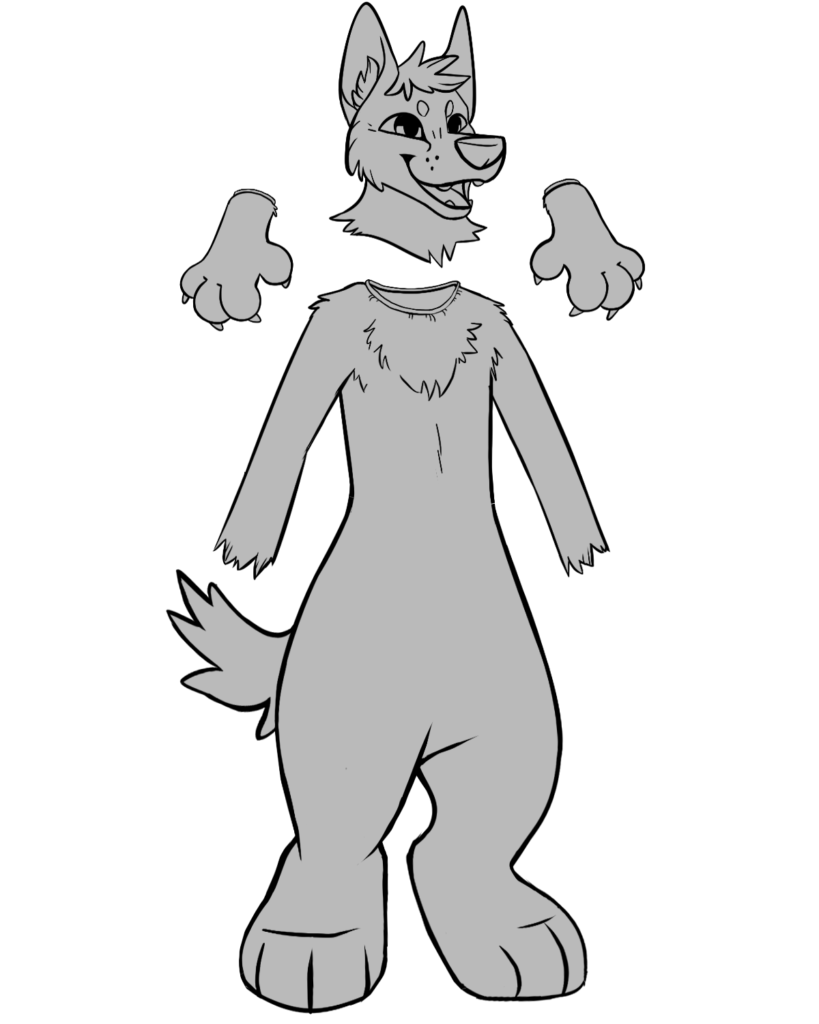 Digitigrade fullsuit: 3700€+
Head + Handpaws + Body + Tail + Feetpaws
Bodysuit :
• Costume is shaped to achieve the look of an animal's legs (shape is given by pillows sewn onto pants to be worn under the costume). Stuffing is polyester.
• Lined zipper on the front
• Waterproof inside pocket (breast)
Handpaws :
• Stuffed pawpads
• fleece, minky or vinyl details (pawpads, claws)
• Lined with mesh fabric
Tail :
• Sewn to the body unless requested by the client
• Nylon belt loops
• Zipper to allow stuffing removal
Feetpaws (outdoor):
• "Use your own shoe", Shoes can be slid inside and taken out at will
• Sewn to the body (not optional)
plantigrade bodysuit: 1600€+
Body + Tail
Bodysuit :
• Costume follows your body's shape (legs are straight)
• Lined zipper on the front
• Waterproof inside pocket (breast)
Tail :
• Sewn to the body unless requested by the client
• Nylon belt loops
• Zipper to allow stuffing removal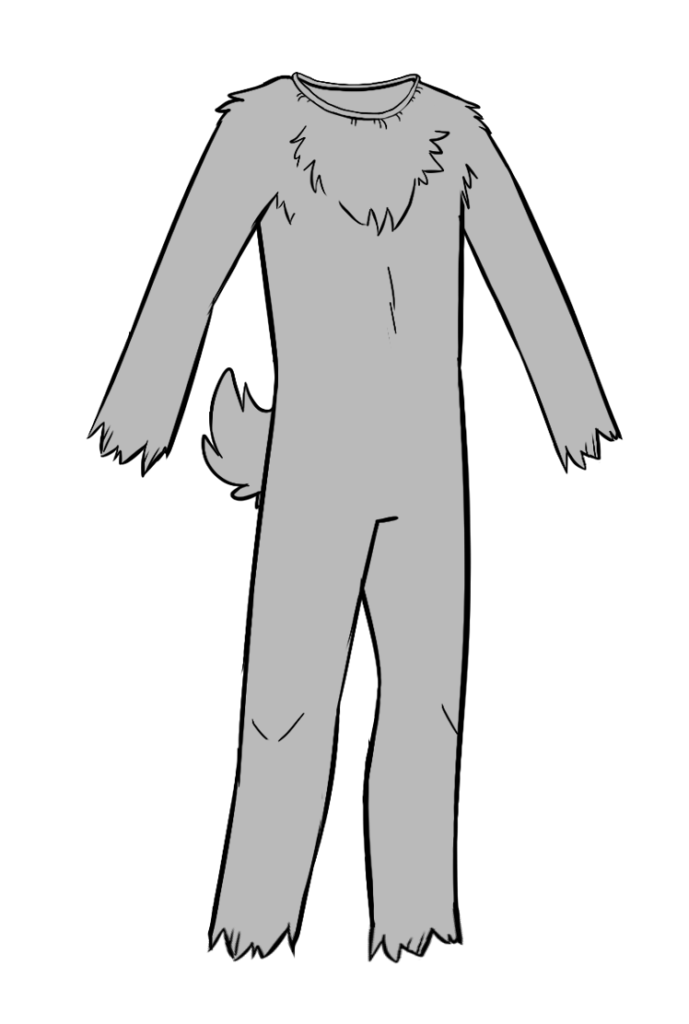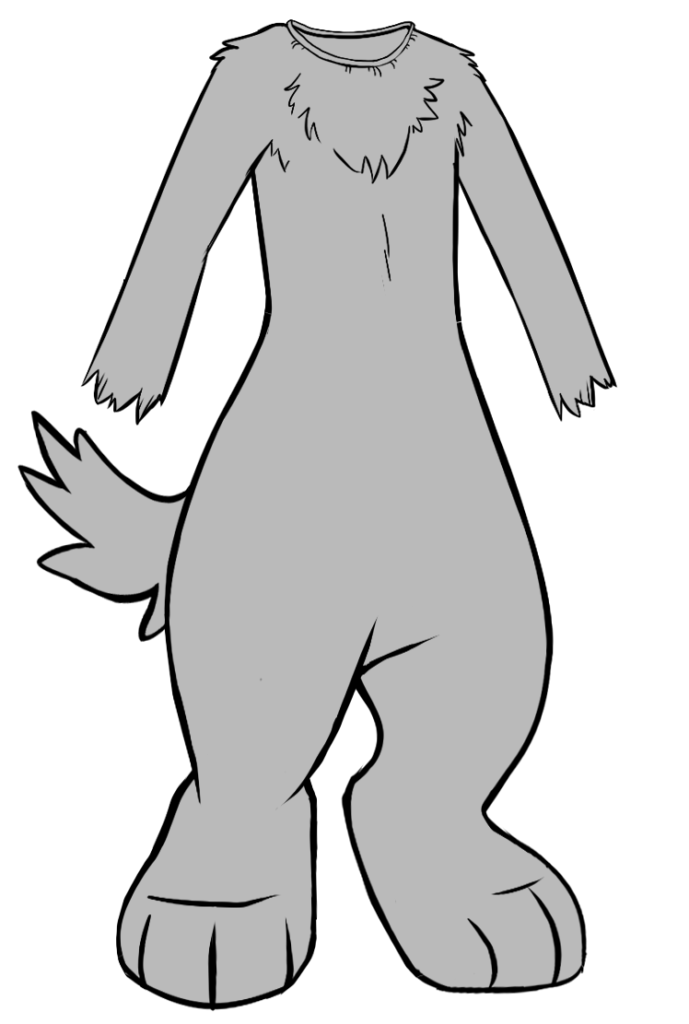 Digitigrade Bodysuit: 2300€+
Body + Feetpaws + Tail
Bodysuit :
• Costume is shaped to achieve the look of an animal's legs (shape is given by pillows sewn onto pants to be worn under the costume). Stuffing is polyester.
• Lined zipper on the front
• Waterproof inside pocket (breast)
Tail :
• Sewn to the body unless requested by the client
• Nylon belt loops
• Zipper to allow stuffing removal
Feetpaws (outdoor):
• "Use your own shoe", Shoes can be slid inside and taken out at will
• Sewn to the body (not optional)
Upgrades

You can add these options if you would like to upgrade your costume
3D
Eyes
+200€
Replaces the 2D eyes
Indoor
Feetpaws
+250€
Upgrades the outdoor feetpaws
Interchangeable eyelids
+100€
per pair
Interchangeable tongues
+40€
per tongue
Interchangeable hair
+40€
Per poof