Tapapat Creations is a small business located in France. We create animal-themed costumes, plushies and small accessories.
Want to know who is hiding behind Tapapat Creations ? Let me introduce myself !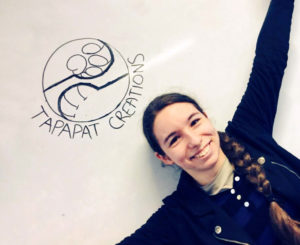 My name is Clémence. At 21 years old, I'm the one running this unusual business. I work on my own for now, and I couldn't be happier with my occupation !
I am an anthropomorphic animals lover, and I always have found my fill in expressing myself through diverse handmade and artistic creations. Already, as a child, the main subject of my art was animals and I loved creating my own characters to make them live on paper. Graduallly, I started practicing other media and I finally tamed digital illustration, sculpture, and sewing.
Later, the discovery of the furry fandom and fursuits made me realise my interests fit in that community and, with renewed inspiration, I took the opportunity to give life to my characters by making them into costumes. A few fursuits and several little sewing projects later, my need to create wasn't satisfied at all and, with encouragement from the furry community, I decided to go for it and create my own fursuit making business. Becoming a fursuit maker only felt natural and seemed like the most fulfilling job I could think of for myself. As soon as my studies ended, I threw myself body and soul into building fursuits for a living.
I especially like the possibility of making a dream become real, the dream of bringing a character to the real world ! Working hand in hand with you is my number one concern to bring you what you are looking for. Each object is unique and made by hand with special care during their entire confection process to awake the soul of your character !